stick tack (Blue/white tack) prank
put sticky tack over the bottom of the tap. when your victim turns on the tap for whatever reason (e.g. washing their hands) water will squirt everywhere and the sticky tack will fall and get your victim soaked. i tried this on my mom ].
CRUNCHY MEAT
by DARCY
(LONDON )
PUT A RAW NOODLE IN A VICTIMS MEAT STICK!!!
The Closet Scare
I did this trick to my mom and I scared the life out of her! (With a little help from my sister!)
Toilet Problem
by Zoe
(Australia)
You will have to wake up early for this!
Get up just before your victim goes to the toilet in the middle of the night, or early in the morning. Spread Glad Wrap under the seat of the toilet. When they go to the toilet, they will have poo/wee on their bum.
Here is the gross part. While they go running off to your parents, you need to remove the Glad Wrap (Use gloves!) and hide it in the bin so you don't get busted. Then sneak back to bed and pretend to be asleep!
tasty drink
You put White vinegar (so they cant tell) in someone's cup or drink bottle beside their bed or on their desk and then sit back and watch them take a sip of what they thought was water. GENIUS!!!!
Spider scare prank
by Beth
(Loughborough)
Basically my sister was totally scared of spiders so I put a massive fake spider on a string and dangled it from the ceiling. I then chased her round the house and into this room where the spider was. She ran into it looked and started screaming so loud that my mum, who is a very deep sleeper, woke up! It was the funniest prank I've ever seen in my whole life!!!!
You smell funny
by Ellie
(England)
Put smelly stuff in there closet

Cream face
Put cream on a plate tell the victim you need them. Then hide when the victim is coming and splat the cream plate, in their face.
Ice shoes
by Eric
(Brooklyn,NY,USA)
My mom was coming home and so I put ice in her shoes because she was just in Mexico and it is warm in mexico. When she got home she screamed and woke me up in the night and told me off because she thought that I put water in her shoes.
Drink prank
by Zoe
(Ohio)
Put food coloring in somebodys drink and serve but wait
Worms
by Rebeca
(London)
Put real worms in a spegeti and serve it to your victim and then see if they notice what really in it

Scaring prank
by Cole Myers
(Burton WV)
when your mom has a pile of dirty clothes on the floor,hide in the dirty clothes and when your mom comes to pick up the clothes quickly get out of the clothes and scare your mom!!!!!!
Broken Mirror
by Emily
(Austrailia)
Well my friend and me found a big mirror and we got a block of soap and did a zig-zag line on the mirror. The soap will wash off, but her mum got freaked and she actually swore at us.
Coin on a string
by Firdaus
(Melbourne)
Has anyone told they were going to give you some money, well here is an easy prank to get them back. Get a coin and a string, tie the string around the coin, when your victim spots pull the string back.

PS hide somewhere they cannot see the string or you.
salty grape
by alyah
(detriot,michigan,USA)
so i gave sombody a grape and there cheeks were red. The directions are: get a grape and some salt and ask anybody do they want a grape. It's so funny!
The coke fountain prank
by elise
(thornhill)
first get a bottle of coke.

Then add anything that disolves.

quickly screw on the lid.

next time at tea when there about to open the same bottle say you need the toilet.

then come back in a couple of minutes later come back in and say whats happened like you dont know then listen to the sound of your mum or dad phone them up to get loads of free coke.
Bloody Nose Prank
by Daisy Sophie Vega
(Cincinati)
Make fake blood with corn syrup and red and green food-coloring and use a Q-tip to put it in your nose (or anywhere else).

I did it on my baby-sitter and she freaked out!


Ball Prank
by Maya
(Wyoming)
Hide in some room. Have a ball, water and some paper. When someone walks in, throw the ball at their face so hard that they fall. Then, dump the water on their head. Before you dump the water on them, make sure you dip the paper in the water. When you dump the water on them, put the WET paper in their pants, as well!.

Ketchup Fun
by Trevor McCDlendon
(Senoia, Georgia)
Take a ketchup pack and open it a little bit and put it uder the toilet seat. When someone sits on it the ketchup will go everywhere. You can use as many ketchup packs as you want at a time.
Im tired...WAIT WHAT?
by Kenziekk
(South Carolina )
Ok just before your victim errrmmmm.... friend goes to bed hide all the covers in your house! Or you can be real mean and think about an insect or bug your friend hares and put it on their sleeping bag when they spend the night. They'll be so scared they wont sleep!
Broken Egg
by Avery Brady
(USA)
Have someone put there fingers through the space between a door and it's hinges. Have them hold an egg with there fingers on the other side of the door. Walk away and see how they wil get out without the egg droping.

the toilet prank
by Sara
(Arnold,MD,USA)
do you have an annoying brother and/or sister? well here is a way to get back at them! lift off the lid on the toilet seat and cover the bottom with wax paper. Next time someone goes to the bathroom... they'll get a big suprise!!! gross but hilarious.
Crunchy socks
Place a tablespoon full of Corn Flakes (or any crunchy/flaky cereal) inside someone's socks (in their dresser). When they put their socks on in the morning, they will crush the flakes inside their socks, leaving their toes full of powder. A variation of this is to put 2-3 tablespoons of Corn Flakes inside someone's shoes.


fake spill
by jake ferdo
(227 albermale road)
Tell your friend that they have a spill on their shirt.Put your finger on their shirt and when they look down stick your finger up their face.This is one of the funniest pranks EEEEEEEEEEEEVVVVVVVVVVVVVVVVVVVVEEEEEEEEEEERRRRRRR RRRRRRR! Lol
a salty drink
by matthew
(witby)
I Pranked my dad with a bottle of cold water... I put a LOAD of salt in, and he never wanted it again..... LOL!
The Salt Shaker Mix-up
by Sofia Villanueva
(Downey,Ca USA)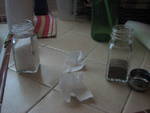 what you'll need
Switch the salt and pepper shakers at your house or a restaurant.
All you need is a paper towel or paper napkin and salt and pepper shakers. Unscrew the tops of the salt shaker and pepper shaker, get a small piece of napkin or paper towel, and lay it on top of the opening of the shakers.

Push the paper towel inwards and pour pepper into the salt shaker piece of towel and vice-versa for the pepper shaker. Screw the lids back on with the hidden switched salt and pepper. When people try to use these, see what surprise awaits them.
Madness Restaurant Prank
by Brieanna
(New York)
One time my friend put me on Prank Patrol and we were doing an employee at a restaurant and everything went wrong for me. (on purpose, it was a set-up).

Shelves smashed, plates dropped, tables fell and cake ended up in peoples faces!

It was horrendous but it was really funny when I finally found out!
coffee prank
Ok this prank is really for anybody. First, mix coffee and a little cold water in a glass. Next go into the bathroom and smear it on the toilet paper. And finally sit back and enjoy their faces when they see it.
salt or sugar??
by cassidy
(oklahoma)
You switch the sugar and salt and when you mom goes to drink coffee... Get this on video,hide a camera under a pillow,stuffed animal,or any thing that will hide it real good ,if your victom does not have good eyesight than it will be easier to hide it if you want you can hide too!!
fake girlfriend
by Kaden
(Emerson, NE. USA)
Ok, I was really bored when i started to feel like i wanted to prank people. So in this prank all you need is a writing device, a paper, and a victim. First I wrote a fake note saying that someone "secret" stole the victim's girlfriend. on the back i wrote, "PRANKED YA FOOL". I think that victim will be a little surprised about what he finds.
Poison
by Sam
(Australia)
Ok you get a bottle of something clearly poisonous e.g. Windex empty the bottle and clean it WELL then fill it with a non toxic liquid that looks the same e.g. Cordial then drink it in front of strangers works well
Tay Tays Evil Cheesy Pranks
by Shytay Williams
(Georgia)
We made a prank cheese-sandwich and left the wrapper on the cheese for our brother, who just got done mowing the lawn and cleaning the garage.

He took one bite and said, "You left the plastic on the cheese!"

He thought called us idiots, because he didn't realize that it was a prank!

Hilarious.
Gooiy mouse trick
by Leila marquez
(I.L Chicago )
Put a slim bucket where the computer muse is and the next time someone use is it they will touch the slime

Ugly Love
by Hannah
(New York)
There is a really mean girl in my school. She mooned a kid on the bus, steps on peoples' feet, and tries to bully me around(good luck with that). Anyways, I typed up a love note that said it was from her and put it in a boy's locker. Then I typed up another love note saying it was from another boy and put it in her locker. Oooo man you should have seen the whole misshap it was sooo funny. DRAMA BOMB!!!!! ut when you do this prank first make sure you got the lockers right, the you HAVE TO TYPE the note otherwise someone may reconize your handwritind, and finally make sure you dont pry the people about the letters and how they felt or you might give up a giggle and ruin the whole thing.

ps. slip the note through the vents of the locker
Missing Battery Prank
by Amber
(TN)
This
easy prank
needs you to simply take the batteries out of the t.v. remote. Or you could just turn one of the batteries around so that the TV remote still weighs the same.
Or, you could get one of those small, universal remotes and turn the TV off and on while people are still watching it!
Brown Teeth
by Annonymous :D
First, you have to get some raisins and tooth paste
next gently place 1-3 raisins in the top part of the toothpaste and wait until your victim brushes their teeth,as they squeeze out toothpaste (and a raisin), it turns out to be brushing in brown mush.(my mom was the victim and i bet you know how it turned out).
Mayo and Straws
Take a packet of mayonaise and a straw, suck some mayo about half way up the straw, then put the straw in a drink with the mayo in whatever you're drinking, once that's done go around asking people if your drink tastes right and offer them a sip.

It's especially fun if you work in the food service industry.
Fake Present
by Tomase
(Davren Park)
If one of your friends or family want a iPhone or something delicate around Christmas or their birthday get an old box that represents the item put a rock about the same weight of the item in the box and seal it shut so when they open their present they will be surprised but when they open the box they will be so cross:-)
hair dye
by Beliber/Directioner
(NEW YORK)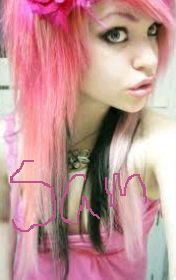 see
put shampoo in a different bottle and put hair dye in the shampoo bottle lol beware to who u do it to
Door Handles
Put some Vaseline on the door handle of someones door then close the door and watch your victim struggle to open the door. Its so funny!
water bucket
by ben
(aberdeen)
well my dad came home from his stupid work and I clearly got him by putting a nail or screw just above the door and on one end was a bucket full to the top with water then on the other end I tied it to the door handle so that when he turned the knob the bucket of water fell right on him and every one was laughing hahaha DAD
Master blaster
by Allison
(Indiana)
My grandpa has a fart machine. It seems kind of odd but it is true. He loves pranks so one day I asked him if I could borrow it and of course he said yes. I went into the family room with everyone there and sat down. When my grandma stood up or bent down I would make the farting sounds with the machine. Everyone just stared at her and laughed while she said it wasn't me. I held up the machine and she joined in the laughter. What a great way to make a holiday at grandma's house even better.
Sleeping Prank for Sisters
by Kylee
( Douglas, Georgia )

I play pranks on my little sister when she is being a brat.

..So, when she's sleeping, I put washable tattoos on her face or if I'm really mean, I use a permanent marker so that when she's awake, she'll get really mad and throw a fit!

When she wakes up: RUN!

I PRANK MY BIG BROTHER WEN HE WAS SLEEP
by RHANI LANIER
(DETROIT,MI, USA)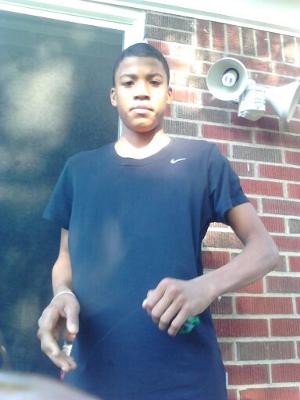 MY BIG BROTHER WAS BEING MEAN TO ME SO WHEN HE WENT TO SLEEP I PUT HOT SAUCE IN HIS NOSE.
pillo bash
by Adam
(grimsbey,uk)
I pranked my mother so to make it fair I pranked my dad what I did was.

I put a pillo on top of a door that was often walked through and when my victem walked through.it fell on there head!lol.





P.S the pillo was soft.
Is it really cordial???
by Steph
(Murray Bridge)
An easy prank for your anoying brothers.
This prank includeds nappies/pull ups, water, cordial and ice.
firstly put cordial, water and ice in a cup.
Then cut the front of the nappy/pull up off and mix it in with your drink the texture of the drink should be like jelly.
ask you brother if they want a drink of cordial and get them to drink your discusting cordial??
And they WILL give you revenge!!!!
Funny Tape Trap
by Landon
(USA)
Before someone wakes up put tape attached from both sides of the door and when your prank-victim walks through the doorway, they will say "What the?!"
Salt & Pepper drink.
by Charlotte and Emily
(New york)
If you have a friend sleeping over, offer them a glass of water before they go to bed.

Fill a cup with water and add salt and pepper then add more water,
and see their face once they take a gulp of that!!! :) :>
Cling Film Prank
by Katie Herbert
(Hartlepool, England)
You will need: Toilet / Door & Cling Film

Instructions: Get your cling film and make sure theres no creases in it.Then when its properly straight, put a layer over the toilet / door (The door might be a bit difficult if your small and your doorways high up!) and make sure its stuck down.Next time your friend or family member walks in the door or goes to the toilet, their mess will stay on the cling film (For toilet.) or they will fall backwards because of the force of cling film(Door).If the weight is too strong the cling film could posssibly break so be careful otherwise the plan could work well!
Different Flavored Drink
by Batman
(America)
Put at the end of the straw a hot sauce or jam, then put it in the juice, or wines, then give it to the victim. It will taste more different than usual. :)

Try it !
A not so funny swing
by nahhhh
(nahhhh)
my sister and i were swinging on the swings with the chains that you can adjust to different heights. When I wasn't looking she put the chains barely on the edge so when I jumped on the swing, I fell right flat on my bum!
power off
today i wanted to pull some pranks so my sister was in the shower and we went into the breaker room and turned off the power and she was so mad we did it over and over and over hopefully she won't find out it was me.
funny face
by Anna
(Moreno Valley)
well a bunch of my friends slept over at my house and two of my buddys were going to pull a prank on the girls when they fell asleep so we waited but the guys fell sleep except me so i got a marker and drew on there faces it was so funnie they woke up in the morning and started laughing at each other i was cracking up
shower prank
by Patricia
(USA)
When the victim is in the shower, take their towel and clothes. Hide them somewhere in the house. Don't open the door fully try and sneak in and take it. Make sure you're quiet!
hide and scare
by jay-h
(stoke)
hide behind a door or where ever you prefer to hide then shout help help when that person comes jump out and shout BOO it works a treat !!
The Messy Cup Prank
by Kate Schofield
(Bolton)
You will need a water balloon, a cup, a straw, a needle and a lid. First, cut out the bottom of the cup. Then, where you put the straw through the lid, there are 4 triangles. Glue the non-sharp end of the needle onto 1 of these triangles, and let it dry. When you insert the straw, the needle will bend as well as the triangles. Put the water balloon inside the cup, and make sure it is heavy enough so your victim thinks it is full. When they insert the straw into the lid, the needle will pop the balloon creating a giant mess each time. the great thing about this prank is that it can be performed over and over again, just replace the water balloon each time. For a different effect, add juice instead of water or add liquid food coloring to the water! Hahahahaha, enjoy doing this prank!
For those annoying brothers!:
Paint his nails pink when he is sleeping!
Soapy toothbrush
by Maddison
(Canada)
Materials : cup of water, soap, victims toothbrush
1: put one squirt of soap into the cup of water
2: mix the brush part of your victims toothbrush in the cup
3: wait around to see their face when they brush their teeth next!!😏😃
Avalanche
When A person is asleep and they shut their door. Stack a bunch of toys and books and when they open the door it will all fall on them.
poop pranks
by sam
(new york)
its gross but funny say .your mom dad or gaurdian was being rood simple if they have a drink spit in it i did it my grams never new then after a week i told her but i dont think telling them is a good idea feel free to add water if it if its milk or put a cookie peace in it
hot chocolates
by tommy
(scotland)
occasionally i make indian curry's and to save time i blend up chilli's , garlic , ginger and coriander(cilantro) leaves with some veg. oil.
i then potion this up into ice cube trays and freeze, this saves time and effort the next time i decide to make a curry.

today as a prank i got some cooking chocolate and dipped a few of my "hot ice cubes" in melted chocolate, let them set and left them lying on the living room table knowing my kids would come in from school and help themselves.

by the time they arrived the centers had defrosted giving the impression of soft centered treats.
Ice Master
by Chris
(Funny Island)
Get a cup of ice on a hot day and ask your victim, "Do you want some?" ..and throw the ice in his face and run for hills!

PS This prank also works with water.
taped
by tim
(la porte, Texas, USA)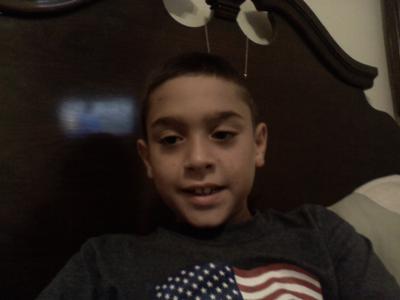 Once I taped the sink spray nozzle handle down so every time someone turned on the kitchen sink it would spray out on them

Make it gross
by Adi Sarkar
(Riverton)
If you have an apple pie in front of you ask you parents or whoever made it that you will eat it when everyone's eyes are closed. Now cut a piece and a lot of salt and very spicy inside it. Offer it to them but be at least be 3 feet back so the maker won't get you quickly.
Getting sweets
TELL the teacher your sick and wanna go call home but actually go to a shop come back and say they did not awnswer
Colorful hands!
by Lily
(Ohio)
I did this to my stepdad:

You need food coloring and hand soap.
Put the corresponding color food coloring to the color of the hand soap, so when they use it the more they scrub the messier the hands get!

the pranked handle
Spread some mayonnaise on a handle where no one can see it. Then close the door and call the person you wanna prank. When they open the door they will have mayonnaise all over their hand!
Ugly Love
by Hannah
(New York)
There is a really mean girl in my school. She mooned a kid on the bus, steps on peoples' feet, and tries to bully me around (good luck with that). Anyways, I typed up a love note that said it was from her and put it in a boy's locker. Then I typed up another love note saying it was from another boy and put it in her locker. Oooo man you should have seen the whole misshap it was sooo funny. DRAMA BOMB!!!!! But when you do this prank first make sure you got the lockers right, then you HAVE TO TYPE the note otherwise someone may reconize your handwriting, and finally make sure you dont pry the people about the letters and how they felt or you might give up a giggle and ruin the whole thing.

ps. slip the note through the vents of the locker
Exploding Coke
Put a Mentos in someones Coke and wait for your victim to open it and bam!
Bandaged ice
by Naziell jones
(NewYork,Bronx)
First I got a little bandage, went to my refrigerator, put ketchup on it so that it looks like blood, put the bandage in the ice tray so that it could be in the ice and gave it to my mom and she yelled eww!!!!
easy car prank
by Echo
write a note that says : sorry about the dent I will
pay for the repair. then put a fake phone
and fake name

go somwhere that there is alot of cars and put it
on the windsheild of the nicest looking car there

watch as they franticly search for the dent!!!
Gotcha ya!!!!!
Ok,
this is a classic one.
At school sneak up super
quietly to one of your
friends and yell "BOO!"
If done carefully it'll
scare the daylights out
of them.
Water Cup
by Coleson
(Evergreen, Colorado, USA)
Just fill a (non-clear) cup with water to the top and put something flat on top of the cup. Flip the cup on top of a counter and remove your flat object. Wait for your mom to go and pick it up and have water spill everywhere.
Help!
by Zoe
(Lollie Land)
I need 5 easy (but good) pranks to pull on my cousin when she comes over for a sleepover! If you have any ideas PLEASE comment with them. She likes singing, acting, fashion shows, being the centre of attention. She is also 9, if that helps. She is coming for a SLEEPOVER, remember. The pranks can't be too complicated, but I want a really good reaction. I might need some revenge pranks as well, in case she decides to pull any on ME.
scared you
by Josh Smith
(New York, Albany)
i hid really well plus she even didn't know i was even in her house.Then i had a monster mask on then jumped out and yelled rraaaarrrr! and before that i asked her sister to make sure while i scare her she is drinking something.So when i scared her she spit out the water everywhere!!!it was hilarious.but make sure when the "victim" doesn't spit the water or any other drink in your face. Plus make sure you have a friend to make sure the "victim" is holding a beverage. So good luck and happy pranking!






Truly Yours,
The Pranking King :)
The Money Prank!
by Tash
(Huddersfield)
Do you have a brother or sister that always gets you into trouble? Well, here's a prank to get them back!

First, you need to save up some money and show your parents how much you have, write a note so that they will remember how much you have, perhaps put it on the fridge or something, but make sure it's some where where they can see it.

Next, hide some of your money under your victims pillow.

The next day, make sure your money is still there, if it's not you know your victim has stolen it for real, if it is then this prank will work perfectly!

After you have checked if your money is still under your victims pillow, run to your parents and tell them that your sister/brother has stolen some of your money, hold out what you have left then show them the note that you wrote the day before and tell them that's what you had before your brother/sister had stolen some.

If they asked you why you wrote a note then just say that you wrote it because you wanted to make sure that none of your money got lost and you would be able to tell if any of it got lost by counting it.

Next, ask them to help you look for it, if they won't help you ask your victim to help you find it.

You can look all over your room if they won't let you look in theirs first, then look in theirs.

They will probably let you look because they will think that it's not in there, if your victim won't let you look in their room then just get your parents to make the victim let you look.

After looking around the victims room for a bit look under their pillow. Get your money out and show your parents, to prove that it's yours add it to what you had left after you had hidden it under the victims pillow.

If your parents like the victim more then they like you they won't tell the victim off. If they like you more, they will tell the victim off VERY badly.
Shower Prank
by The Bathroom Joker
(Somewhere Sneaky, US)
When someone is taking a shower:

Fill a cup of really cold water up and pull back the shower curtain and dump the cold water on them!
Phone man meyhem
by Lucy
(Norfolk)
Here is an easy prank but don't go too mad because you will reveal the voice which is you, take any phone then ring somebody you know but make sure you don't ring the phone that you are using because it will not work say hello id like to buy a tv please but if they say we dont sell them then you will need to say I am not leaving until I have got my tv then make a small conversation but when they starts getting suspicious hang up on them (put the phone down).
I'm so stupid
by Xander
(Raleigh nc)
Pretend u don't know any thing ex: (mom)do you want some pizza (son) what's pizza

vomit
by shirley
fake vomit on a car
disgusting doughnouts
by Harvey Nobes
(Sydney)
If you have an annoying older brother who loves doughnouts buy a 6 pack of jam filled, insert a straw to each one and suck out the jam and then fill it with mustard or sauce. Next time your victem comes to take a bite he/she will realise there disgusting doughnouts.
SNOW
by Jared
(U.S.A)
on a snowy day, take snow and put it in the street
and build a snowman and watch cars stop and look
to see if its a human
exploding ghost :)!
by a.j
(san diego)
at night when everyone is a sleep take pop cans shake them up throw them down stairs and wait for the magic to happen

Glue's Heroic Deed
by Vampire Millionare
(Charlottesville, Virginia)
Me and my friend hate my her evil brother,Carol.

We put glue on the back of his shirt and glued it to his door.

Then we did that to his favorite shirt, pants, and even one of his disgusting shoes!

 We glued the doorknob and closed the door.

Then we laughed our heads off!!
Stapled Finger
by Anonymous Finger
(Elsewhere)
First of all, you need to have a staple, and cut off both edges, and just glue on the edgeless staple on to your finger. Use fake blood (ketchup) to make your finger look like it's bleeding.


flour in face
by layla and leiana
(preston england)
Put flour in your friends hand when they're sleeping and tickle their nose!
funny junk
call 1 of your siblings with a restricted number and when they anwser the phone tell them they won a new ipad or iphone and when they are exited and ask were do i get it at you say we will send it 2 you but we need your address and when they give there address u say it will be there tommaro at 6;00am so when they wake up u spray silly string all over them and put a fragrent and run upstairs p.s i would wear a mask or something that will cover your face!!!!
Spider trap
Get a Halloween spider and drop it on people when they walk up the stairs!
Wii Prank (Sleepover)
by ZE MUFFIN MARE
(Ponyville, Equestria)
You need:
Wii
Compass

Get the 2nd Wii remote and activate it, right before anyone starts playing. Now, take the compass and see the direction the Wii is in. keep the remote pointed in that direction and walk into a closet and hide. If you can hear the game, start pressing the home menu button repeatedly. The other players will think the Wii is broken and come looking for you when the start calling your name, hop on your bed and pretend to read a book. When your guests come in your room and are all like, "I think your Wii is messed up..." tell them you're busy reading and that your Wii can wait. Recommended for sleepovers or other parties that involve playing games.
Secret spitballs
by Avery
(United states)
Ok me and my friend got realy bored.

So we got an idea of spitting spitballs

But right after you spit it,you hide so they have no clue where it came from!
The money scam
by Xander
(Raleigh nc)
If you don't buy your lunch this is not for you


So tell your parents your out of lunch money take the money and spend it on a even better prank

LOL Prank
by Katt Kitten
(USA)
Walk behind some one thats a boy that's bald and spray shaving-cream alot on his head and tell him that he needs to shave his stubble.
giant booger
get some green play dough and make in to the shape of a booger and hide next to you and than throw it at your victim and yell as loud as you can "GIANT BOOGER!!!!!!"
Icebox
by Lala
One day my mom got an icebox for snacks. Well one day I bought this pack of fake mice. I put them in the icebox before my mom got home from work. Fortunatly she had some stuff to put in their! She opened and all these tiny fake mice came right into her face! I laughed AFTER I helped her back up! Ah... I'll never forget my first prank.
finger in a box
by nali
(meriden ct)
Get a box, cut a hole under it big enough for your finger, get some grass and dirt and put it in the box and over the hole to stick your finger through the hole and get some fake blood and put it around your finger and tell your mom you found a finger in the garbage can or in a bush.

pop can pepper prank
by Ryshelle
(Newaygo MI)
i never did but all you need is a victem who is drinking from a bottle that ISNT clear and some pepper.When theyre not looking put a enormous amount of pepper into theyre drink.This prank is HALARIOUS!!:)
draw
by rei
(ca )
Once I drew on my bros face and he was so mad and so funny that I took a video and put it on Facebook.
The oil and peanut butter joke
by Bella
(Queen creek)
Put baby oil on the door knobs and put peanut butter on the back of a car door handle and everyone will get really sticky.
The easy way
by Rosey
(Leicester )
Get a big bucket full of water and put it over the door and get some string from a ballon and tie it to the door handeland mack sure it is tight then you just wait and when you hear them coming get ready to pull.....
Prancing wAr:):)
by Lexi
So me and my sister and our friends were having a prank war and she took our supplies
So we got her back by takin a box and filling it with dirty cloths and wrote prank supplies for prank war on it they took it and dumped it all ov their room it works:):)
Scary Paper Face
by Wong
(China)
Get a piece of paper.

On the paper, draw a scary face.

Now hide somewhere and when someone walks

past the scary face, say something.

They'll think that the paper is talking!

..And they'll FREAK OUT!
Farting Granny
by Decoda Martenies
(Savannah, TN, U.S.A)
Invite you grandmom to dinner. when everything is ready, right before she sits down, put a whoopie cushion on her chair and it will sound like she farted!
Tape on the Steps
by Trevor Knappenberger
(Snecksville, Pennsylvania,United States)
On the top two steps in your house put the stick your side up and your victim will step on it and have it stuck to there feet.

Good Sister Prank
by Border Crasher
(Mexico or Bust.)
So ..you take a balloon filled with mayonaise, a car with a different state license plate and a zebra.
You drive the car into Mexico, where you hit innocent chickens, and you freeze the zebra but make sure you pop the balloon on its face, first.
Now throw milk at your sister and she will be so mad!


WEBSITE OWNER SAYS:
Throwing milk on your sister could get you in trouble.
fake robber
by darshey
(michigan)
I was waching funny videos this lady son act like robbers him and his friend
Camp fever
by Renee
(Australia)
Well I was at a year 4 camp, around a week before a really tall girl called me an oompa loompa because I was so short so when it came to camp I got some orange piff or you can use the stuff they put in self spray tanners on to there soap ( depends what kind of soap) and green food dye in her shampoo ( doesnt work well in conditionar. The main reasin this worked was because on camp we had to have really short showers, if she stayed in there any longer than she did ( around 5 mins) it wouldnt have worked.
Small shoe
Put toilet paper in somebody's shoe

Bad Snicker
by Jackie
(California )
When I was in the shower singing my brother came in and started singing also, so once I found out it was him I totally got mad and said that I'd get him back next time then once I got out of the shower I got the snicker opened it a little bit just enough that it could get out, ate it, put a note inside that said "Eat Healthy" and another little prank when he would open it, I put a type of cream that smelled like rotten mint!

And then I closed it went to living room and said "Do you want the snicker? ..because I don't like them". He said, "Yes" and once he opened it he touched and smelled the cream and it smelled so strong and disgusting that he threw it in the trash can without even reading the note!!! I kept laughing till my stomache hurted.
sweet surprise
by kole
(San Antonio Texas)
tell someone knock knock and they'll say who's there then say sweet and they'll say sweet who and shove a pie in their face and say sweet surprise.

toostieroll poop
by Mandy
(USA)
Chew up tootsie roll and roll it up to make it look like poop. Lay the tootsie roll on the floor. Make somebody believe that the dog or a person pooped on the floor.
bloody hair trick
by joshua
(euless, texas, united states)
tell your victim to take out a hair pull the hair apart and put on a plate filled with water tell them to look close and hit the plate and it gets them wet, i did it to my friend
The Powder Bed and the Wet Bed
Do you have a super annoying older brother or sister? Shake baby powder or foot powder in their bed. These things work too:
salt
sugar
any kind of spice!
foot powder
cracker or food crumbs

For a wet bed, before they have their friends at a sleep over go to bed, soak a towel and squeeze it on the mattress


Christmas present
by Megan
(Bolton Manchester England )
Move something of your brothers\sisters and then near Christmas when they need it rap it up. On Christmas day give it to them they will be annoyed you took it but happy they got it back
"ROTTEN" siblings
by Luiggi Huerta
(U.S. NJ Harrison)
I got so mad at my brother and sister one day I bought milk and vanilla ice cream ,waited for the milk to rott.Then grabbed 2 cups,put rotten milk at the bottom and put vanilla on top.Gave it to my brother and sister and they ended up being sick.Do this if you want to teach them a lesson.
a ruber band
by Mary Watson age10
(Mt. Vernon IN)
take a rubber band and strech it out. then put it on the sprayer next to your kitchen foset. someone turns it on and woosh! the victom is soced!
Upside Down Shower
by Anonymous Joe
Before everyone wakes up, switch the HOT setting and COLD setting stickers on the shower knob. Sit back and watch your victims take quite a shower.

If the HOT and COLD settings on the shower knob are etched permanently in there, simply paint over them, using red paint for cold and blue paint for hot.

Just make sure that your hot water isn't too hot that your victim will die, otherwise their family will sue you.
The weight gainer prank
by Xander the freakin awesome prankster
(Raleigh nc)
Find the exact same shirt your parents wore but make 2 sizes smaller draw over the sise tag put it in there dresser take out the old one and hide it and they'll think they gained 5-15 pounds!!! (and when they lose to much weight buy a 3 wise bigger then they were now and do it all over!!!)
Popcorn Avalanche
Find a long roll of wrapping paper or some newspaper. Tape the paper over the doorframe of someone's bedroom, leaving a 2 or 3-inch gap between the paper and their door. Paper the bottom 2/3 of the door, and then fill the gap with popcorn. Finish papering/filling all the way to the top. When they open the door from the inside, Popcorn Avalanche!

Hole In Your Water Balloon
by Ronnie
(Alabama)
Make a tiny hole in your water balloon and give it to someone and ask them to blow it up and then run, they will be coming either crying or yelling so beware!!!!

Well when I tried it on my little sister, she started crying and she said, "Hey, you gave me a balloon with a hole in it!" and she started crying again.
Operation Stickie Note
Get a sticky note and a pen or pencil and write something on the sticky note, like, 'I like Sesame Street' or something mean, like, 'I kill puppies' or something embarrassing.
On your victim, pretend to hug him/her and stick the stickie note on their back, haha. I love when my brother always does that to me because sometimes I leave it there and the joke's on him because he thinks I don't know! What a retard! lol

I even go to the shop and his notes stay there and everyone tells me to take the note off my back but then I explain to the fools that it is there because I'm backfiring a joke on him and they laugh at how funny that is and they get the joke, too.

My brother is sooo dumb, haha and he can't even spell propelly, either!
tape the tap
by jessica
(mallorca spain)
put celotape on the bathroom tap , adjust it until when you turn on the tap it will spray directly into your victims face lol
leave it there and hear the screams

enjoy

drop pop
First enter your friend's room get a light stuffed animal. Second open the door a crack. Third put the stuffed animal on top of the door and slip out of the room through a crack in the door and hide in the kitchen cupboard. DON'T mess this up.


tap tap
by travis
(rockingham NC USA)
when someone walks by tap them with a long stick 3 times then hide
CAUTION! do not do this prank on angry people
fake bug prank
by Cole Myers
(Burton WV)
Take a FAKE bug and tape it to the wall, and when somebody walks in the room they will scream and say " AHH THERES A BUG IN MY HOUSE!!!!!"
Nasty tooth paste
by Mia
(Marion nc)
When your parents are gone or asleep get there tooth paste and get musterd or mayo and get tooth pick and put mayo or mustered in the tooth paste bottle and push it in with tooth pick
Egg-citing Shoe Trick!
by Cupcake
(Brisbane, Australia)
To play a really easy and fun trick take an egg and very carefully tape it to the bottom of someone's shoe. Do that with the other one, too. Then get some play dough and make a rectangle with it, about 5 cm thick, leaving 2 egg-shaped dents in the top. Put the play dough where the person whose shoes you've got usually puts their shoes and place the shoes on top of the play dough with the eggs hidden in the dents with the shoes on top, so the eggs are hidden. It has to look like just a pair of shoes sitting on some play dough. Wait until someone puts the shoes on and watch what happens!
Bucket on a door
by alex davies
(cardiff)
you put a bucket of water on top of somebodys doorframe so that it soaks them when they open it.
Not Working DS.
by David
(Antigua)
Unscrew the back of the DS then take out the batteries. Then hand it to someone who had always wanted to keep or play it. Unfortunately, the DS wont work!

Falling from above above
Open a door just a little then get a blanket or basket and set it on the top of the door then wait till someone open's it
book in somebodys pillow case.
by abbigale
(peoria female ilinois)
the story is that you put a hard book in somebodys pillow case when they lie down they feel the book.
Happy Birthday!
by jessica walters
(mississippi)
The prank is you get an empty box and wrap it. give it to someone and watch their faces when they open an empty box!
Crazy Eggs
My sister was making egg salad and my father and I put a raw egg in the mix and when she was cracking the eggs she hit it hard on the table and it splattered all over her and nowhere else.
What is on the toilet!?
by Avery
(Usa)
Items needed:
- Saran wrap
- Sneaky people :)
- Toilet

This is always a great one to pull on younger brothers or sisters! First lift the toilet seat up. Then take a long sheet of Saran wrap and you must pull tightly from the top to the edge of toilet. Very tight and smooth so they wont notice anything.
Slimey Feet
by Mya and Ellie
(UK)
Put a slice of cucumber or something wet and slimey, at the end of someone's bed, under the covers...

When they get into bed they'll feel something horrible by their feet and probably run out of bed screaming
the key hole prank
If your family has gone out and you're in your house on your own, put the spare key in the key hole turn it from the inside and take it out so your family can't get in when they get back.

Glow in the Dark Hairy Soap
by Lauren
(U.S.A.)
Here is an idea:

What you will need is a bar of soap, a used hair brush, and glow in the dark nail polish.

First, collect some hair off of your hair brush.

Next, put a small amount of glow in the dark nail polish on the bar of soap.

Third, stick some of the hair on the bar of soap, and then spread some more glow in the dark nail polish onto the bar of soap.

After the nail polish dries, turn over the bar of soap on the other side, and repeat.

Then for the laughter.

Place the hairy and glow in the dark like bar of soap in the shower without anybody noticing, and make sure there is some sort of other cleaning source so you won't get grounded.

Thanks, Lauren.
Yum.. Oreos?
At lunch I offered Oreos to all my friends they were filled with tooth b
Paste aand shaving cream hahahah
WATER IS GOOD FOR YOU
by Laylah Stopping
(Sydney)
When I went to my uncles house, he did not stop bothering me!
I needed some type of revenge!

His favorite drink was Mountain Dew, so, I spilled some Mountain Dew out and replaced it with water!

He drank it and spit it all over my aunt!

I also did it with lemonade!

Slop Bucket
by Charlotte
(Arlington, TX, United States)
Fill a bucket with the most messy and sloppy things. Then put it on top of a open door. When someone closes the door their in for a big surprise.
Sticky sheets
Sprinkle powdered sugar in the bottom half of someone's bed (between their sheets). The dry power will be virtually unnoticed when they get into bed. During the night, as their body perspiration adds moisture to the powdered sugar, it will become sticky and glue their sheets to them. It's also easily washed out.
Exploding Toilet Trick
by Frank
(Exeter, Devon, England)
Just pour one or two bottles of washing up liquid into the tank part of the toilet. When someone flushes the toilet foam will go everywhere.
pretend zoo
by Aisha
(London)
Tell someone that a animal has escaped from the zoo and put a pretend Teddy animal somewhere near them!
Spray Prank
by Jacob
(Phoenix,AZ)
Open the lid to the top of the toilet get the spray nozzle from out of the toilet and put it just under the lid so that the top is lifted over the nozzle then when someone flushes the toilet it sprays them
sink splash
by ALEX
(Dover NJ)
First get clear tape.
Next go to the bathroom.
Go to the sink.
Put a piece of tape where the water comes out.
Make sure there's a gap where the water can come out.
Then the next person to come in will be sprayed.
Holy Straw!!
by Caroline
(US)
My friend came over for a party on April 1st so she asked me for a glass of apple juice!! So I took a straw and I used a thumbtack to poke 12 holes down one side of it!! When she tried to drink she couldn't and it made an odd slurping noise!!
the sprinkler
by kayla m
(ny,ny)
put powder on r seling fan and when someone turns it on watch as powder falls on thier head
sister pranks
by BJ Pearson
(BJ Pearson)
one day my sister was at a party and my mum and dad were working on the house so i made my mum and dad a milkshake and i added some tooth past


lolly pop
by ella
(south australia )
you empty some ones money box and put the cash in a safe place fill it with junk that when you shake it it sounds like coins l0ock the money box you need 2 keys for this that both open the money box now hide 1 in a safe place and put the other in a cup of water and freeze it put a lolly pop stick in it mix the water with food coulering 2 make it look like a ice block

now tell your target that you have placed a lock on there money box and when they arsk where the feys r take them 2 the freezer say no one will ever be able 2 get the keys out of there and steel your cash
rubbish
by sean
(minto nsw aus)
instead of putting rubbish in the bin put one of your brothers toys in there then enjoy him scream

The thumping cupboard prank
by Christy:)lol
(Queensland)
When your victim is brushing their teeth at night, quietly go inside their cupboard and don't make a sound. Then when they come into their room to go to bed, start making thumping and scratching noises. They will be so scared and they will start to wonder where the sound is coming from! Then a few minutes later slowly open the cupboard and then jump out and shout BOO! Your victim will be so frightened. If they open the cupboard when trying to find you just jump out and say BOO! Reminder: remember to practice.
Minty Fresh
by Desire
(USA)
Okay,here's what you need:
any cookies with cream inside
toothpaste
a victim who can take a joke
------------------------------
Take the cream out of all of the cookies and replace it with toothpaste.Then put them back where you found them.If there is left over toothpaste,squeeze it down the sink.Put the cookie cream inside
the toothpaste tube.When someone eats a cookie,they'll wonder why it tastes like toothpaste.When someone brushes their teeth,they'll wonder why it tastes like cookie cream.
glasses
I told my mum Im doing a magic trick but i needed a pound so she sat down and gave me a pound an I put glasses full of water on her hands and ran away
clown makeover
by annie
(nsw)
Paint a clown face on the victim. Make It Scary.
shower stopper
my parents wake up every morning and take a shower. my brother and i put a plastic bag with 4 pony tails over it where the shower water comes out...... when they turn on the shower there won't be any water.... lolz
Pants-ripping prank
by Hinamori Amu
(Tokyo, Japan)
First, you need a small piece of fabric. At the dinner table, when somebody sits down, rip the piece of fabric so they think they ripped their pants! I tried this on my ex-friend, and it worked!
Shaving Foam Prank
by Jenni
(Canada)
You can put it anywhere, door handles, shoes, pillows, bottom of the bunk bed ladder, have fun with it! (:
The Rip-roarer
by Lisa
(Virginia)
You will need a penny and a piece of paper for this simple prank.

Put the penny wherever your victim is.

Hide where your victim won't be able to see you, then as soon as the victim bends down, rip the paper.

Then your victim might think he just ripped his pants!
Hanging Dolls (...ugly ones)
All you need is a rope and some horrible dolls that you hate. Rip their heads off, tie their feet to the rope and hang somewhere and kaboom drop it in front of people!!!!!!!!!!!!!!!!!!!!!
My toilet isn't working!?!?
by callie
(ca)
Put celphane on the toilet seat and when they pee it will spill! Haha
Forhead
by Brooklyn
(Eastern washington)
Ok so I woke up smelling like deodorant on
my neck and Forhead and I figured out it was my sister so I wanted to do it her but this time with guys deodorant so when she was sleepin I coated her in it and when she rolled over I got her neck! She broke out in zits and every thing!!
Where?
by Zoe
(Australia)
On a piece of paper write


Where?


And ask your victim, what does this say? They will say where? You say There! Over and over till they get it.
soapy toothbrush
You put liquid soap on someones toothbrush head little bits at a time so its not obvious, and when they go to brush their teeth they get the taste of soap in their mouth which is quite hard to get rid of. HILARIOUS!!!!!
message dog and scare
by april
(newyork)
i dressed my dog put a note on his back and got him to give it to my sister the note said beware scary things are about to happen after that she didn't believe it and then i gathered some pranks and played them after that she got scared hid under the table and kept asking god what did i do
The Stealing Spider
by Cesilly Rose
While your brother/sister is playing a game, yell "Spider!" While they are looking for the spider, steal their game. Since their is no spider, say it escaped.
Conversation Holding
by Kylee Andersen
(Hyrum, Utah, United States)
Call a random number, see how long you can hold the conversation. (When they answer just say things like, "Have you been outside today?" and "What are you up to?".
Shoe Stuffing
I put tissue paper in my family's shoes the night before April Fool's Day last year. It was hillarious watching them struggle to put them on the next morning!
Salt Shaker-Pepper Shaker Prank
by Christy Avery
(Indiana)
You need a salt shaker,a pepper shaker,and a paper napkin or a paper towel,any kind of paper.
OK,take the salt shaker,and open it up.Take your paper napkin or towel,and rip a piece off slightly bigger than the opening in the salt shaker.Stuff the napkin in to make a little pouch,and pour a little bit of pepper in the pouch.Close the salt shaker,and rip off the edges,to where you can't see the towel.Next time someone goes to put salt on their food,out comes pepper!Be sure to take the pepper and napkin out after!
EWWWW SOUR MILK.
by Elise lena brocklehurst
(thornill)
Do you have a brother or sister or mum and dad that drinks milk strait out of the carton if you do this is the prank for you.


Finish off the last of the milk and simply rinse.



make sure you cant see through it or it will go wrong.



Fill it up with orange juice and screw lid back on.



Then the next time they drink strait from the carton they will think the milks gone sour.



I tried this on my brother and he puked.
The Gullible Mother....
Take your mothers phone and hide it... Next, call it on a saturday morning and disguise your voice... Say that you are your sons pricipal and wanted to suspend him. your mom will freakout....
Take salt and sprinkle all in the victims bed( so that they think crumbs are in the bed)
by Tiara losland Parks
(chesterfield,virginia,richmond)
Today I put salt in my brothers bed & he screamed lika girl
Wet Peanuts
by Juba
(USA, San Francisco, California )
You will need:

1bag of chocolate covered peanuts
1bag of regular peanuts
1bowl
Video camera



Suck the chocolate off of the chocolate covered peanuts ( video tape and tell
what you are doing) put them in the bowl. Then put the regular peanuts into the bowl.
Then spit in the bowl and mix the peanuts up and offer them to a friend.
poomainia
by sally
(darwin)
get bark,or wood that resembles a poo and place it on your victims bed room floor then pretend you think it is real!
Paul Revere
WE ran around screaming, "THE REDCOATS ARE COMING!!!!!!!!! HEAR YE! HEAR YE! TAKE UP ARMS! THE REDCOATS ARE COMING!" I'm pretty sure a guy called the cops.
Shrinking
by Maddy
(Redlands)
Want to make someone think they are shrinking? This is pretty easy to do.

First you will have to take a couple of clothes out of the victims closet. Go to the store and buy the exact same clothes as you took but get them one or two sizes bigger. Put the clothes you bought in the victims closet and wait. When they come and complain that their clothes are too big, make them believe they are shrinking.

I used this on my brother and he FREAKED!!!!! The look on his face was so funny!!!! I hope that if you use this prank it will work as well as it did for me as it does for you.
Crums
by alex davies
(cardiff)
First you eat on a plate as usual (Has to something with crums). Then you simpily pour the crums on your victims bed. Then you wait and see their funny reaction.
your dogs got rabies!
by Maizy
Get up early in the morning. Put some shaving cream on your dogs mouth and scream HELP! THE DOGS GOT RABIES! Put a walkie talkie in your dogs collar and hide. When your family comes running, growl into your walkie talkie and have a good laugh. It will freak them out!
Sanitized Water
by Briona and Madiyah
(Georgia)
If an old person ask you to get them an ice cold cup of water tell them okay and pour water in a cup and put ice in it and put hand sanitizer in it and stir it up really good.
Fake turd
by Tori
(marshville,NC,united states)
I once made a fake turd out of toliet paper roll you wet it and rip it up and run it under the water then you roll it all up and it looks like a turd. Then you place it where every your victim will find it. Also you can make someone say that they have to use the bathroom but on the way in front of the victim drop the turd it looks like the pooped their pants.
Nasty Treat
by Ariel
(UK)
mix a whole lot of nasty ingredients into a drink. give it to someone saying it's something they like. run out the room and wait to hear their reaction.
toilet wrap
by Brianna
(oh)
place clear wrap and putt on toilet and make it clear to where you cant see it at all and put the toilet seat down and wait for someone to go to the restroom

Runaway
by Madison
(Calgary)
On April fools day I played this bad joke on my mom my cousin and I hid my dogs in my room pretended to open and close the door so we went to mom and said "the dogs escaped out the door". My mom was freakig out so I let the dogs out of my room and she was relieved haha
Ketchup Legs
by Heather Bacon
(Florida)
Okay so one time i got ketchup packets and i put them under those little bumpy thingys under the toilet seat and when my brother sat on the tolet it squirted all over his legs! It was really funny and it a really simple prank.

Rocky
Pour a glass of water in someone's face, unexpectedly from behind them, and when they flench, quickly punch them in the face from behind also. There you have a ROCKY.
The Cling Film prank
by Innes Mackay
(Maidstone)
One day i was feeling like i needed to prank somebody. so i got my hands on some cling film and some sellotape and stuck the Cling Film on one side of a door to the other. The next time someone walked past they would have Cling Film on there face, but 5 minutes later i forgot about my little prank and walked into it myself. I was prepared for that, and i started blaming everyone. That was the end of my prank. :D






| |
| |
| |

.

~~~~~~~~~~~~
Smushy surprise
by Sunny
(Georgia, Atlanta, us)
Poop in a bag and give it to your sister then say its a no bake cookie
Makeover
by Desire
(USA)
So,all you need is:
nail polish
lip gloss
eye shadow
blush
and a victim who is asleep
---------------------------
Once you have this,you're ready to go.
---------------------------------------
For annoying brothers-
do their makeup very pretty and nice.When they wake up,RUN FOR YOUR LIFE!
----------------------------------------------------------------
For annoying sisters-
do their makeup very ugly and disgusting.When they wake up,RUN FOR YOUR LIFE!
super glue and hat
put supper glue on the ring of someones hat
food coloring in the bottom of someones cereal bowl
by arminta
(burbank,ohio,in the U.S.A)
Put food coloring in the bottom of someones cereal bowl and put the cereal in the bowl so when they pour the mik and stir it will turn green or red, etc on April fools day i did this prank on my mom and she threw the cereal,milk, and the bowl away.

Fake wrist fracture
My best friend came to school one day and said "I was up at the school last night and fell off the top of the slide and fractured my wrist" and holds out an apparently fractured wrist and I believed her and at lunch she said "Fooled ya!" and she and my other friend were laghing hysterically. So I fractured both of their wrists and their parents won't let me play with the, anymore.
Nail trick
by Carys furnival
(Tipton)
I had a prank nail put it on my finger and said to my mum I picked up a nail to move it and it got in my finger!!!
cake time
i got a dog poo and put it in there shoe the moore in there hat and all over there clothes and told them wat to wear the next day. then i left the country and changed my name....hahahah many lol
jayd-anna
siblings, restroom, and phone
by Abigail
(United States)
when you're sibling is in the restroom and talking on the phone make a really loud farting noise and run!!!!!!!!
DEAD
by Jonny Hayes
Well here's how to do this prank. It's for kids and it is so so much fun. Make your your gonna be off school one day, and tell your friends all about how your going to die. Say this, " Oh god, yesterday I went to a fortune place, and they said I was gonna die '....say your day..." Keep bragging about it. They won't believe you, so say it every day. On the day before, give all your friends hugs and say your going to miss them. They will probably respond like this " Look your not gonna die " , so start crying to make it more realistic. The next day, don't turn up at school, say to your mum or dad you don't feel well, or if your have a competition or something. Just make sure you don't go to school. If it works, you'll have lots of missed calls and messages. I did it when I went to a music festival thing, got back and had 4 missed calls. Everyone thought I was dead :L Go in the next day, and they'll ask you why you weren't at school. Whatever you do, don't tell the truth. It is incredibly funny, and if it works you'll be laughing for days! Good luck guys (:
paste mouth
by Taylor
(Canada)
Get a bottle of toothpaste when your friend is asleep and put a bunch of toothpaste in there mouth

sleeping prank
by Ella Rose Boyce
(Western Cape)
once i took cream and a feather.i pored the cream on her hand put do it on both hands then take the feather and tickle her on her nose.when she wakes up run to your bed room and lock the door.
bed crumbs
Get a biscuit and crumble it in your littl brothers bed so when he gets into bed there will be lots of crumbs!!!!
Soapy Toothbrushes
by Amelia
(Looxwood, West Suxxex UK)
First, make a potion of different soaps and put a little water in.

Next, get someones toothbrush.

Now put the brush or brushes in the soap and rub the soap into the brush part.
(remember not to put soap on your own toothbrush.)

Put the brushes back were you found them and wait until the victims use them.

Don't be in the bathroom when they brush their teeth.

The prank will last for quite some time, because the soapy taste lasts for about 4 days!

Try this joke at home :)
Pop goes the tyre!
by Adrianna
(Perth)
Blow up a balloon and hide it behind a car tyre. wait for that person to start reversing or forwarding and popping the balloon and they will think their tyre has popped!
Spider prank
by Shelby
(North Carolina )
Put a fake spider on your Victim and tell them that you have something on your back this only works for grandmas and moms

haha
tell someone that you left their phone in the bathroom and lock the door behind them.


Anonymous love letters at school
by Laura Ride
(LA California USA )
Go around putting anonymous love letters in random people's lockers and the next day see their reaction (it's really fun and funny to see how they react!)
A PRANK TO DO ON YOUR SIBLINGS
by alyssa
(T.X United States)
You can do this on your parents brothers or sisters
Whenever my brother was asleep I got some lemon and put it on all of his fingers and then I put salt on all the fingers then whenever he wakes up you tell him that we should do a play for our parents then I say you have to come in the room sucking your thumb then he will taste the sourness

That's cold stuff
by Xander the freakin awesome prankster
(Raleigh nc)
Get ice Pretend to give someone a hug then shove freakin ice down there shirt ps RUN
epic fail
by jack
(country)
simple practical joke
you need,
plastic chair, hak saw (any saw will do) and an unsuspecting victom!

cut half of one of the legs or untill it is almost of, but make it look like it is still on.
if you cut it all of it wont matter beacuse you can just use stickey tape.
then replace there chair with the dodgey one and sit back and wait!
Bathroom Prank
by Cookiemonster
(California)
My parents told me we where going to Disney World but we went to my grandparents house instead, because I never wanna go-.-

So, to get back at parents like this,

hide all the soap in your house so that when the victim goes to take a bath, they can't! ;)
funny milk?
by annie
if you got a milk carton, add some food colouring to it. Wait till your moms ready to start cooking!
Ewwww!!!
by Rachel
(Australia)
So I like Nutella bread for breakfast and on April fools day I asked my Mum for a Nutella sandwich and she gave me a Vegemite sandwich instead!
Hide-and-go-seek
by BOB
(St. Louis)
Tell someone that you don't like to play hide-and-seek with you and say to them, "You hide and I'll find you".

Then, just start playing something else and don't even bother to look for them.

When you see them next, say, "Whoa, you hid really good!"
magic?
by Rachel
(California, America)
ask a friend or family member if they want to see a magic trick. fill up a bowel of water, stand on a chair and hold it to the roof. then get the end of a broom and hold up the bowel against the roof with the broom stick. then ask the victim to hold the broom real quick. when they do pull the chair away and walk away laughing. *if they let go of the broom or walk away the bowl of water will fall from the roof, spilling everywhere* Now they are stuck in one place :)
Shoelace Antics
by Ashlee Lambert
(Australia )
When the teacher comes in for class hide under your desk and start
going aroud the classroom unseen tying ALL the shoelaces undone
TOGETHER!!! When class ends relax and enjoy the hilarity!
The Water Bottle Prank
by Natalie
(CT)
You poke holes in a water bottle with a thumb tack and when somebody grabs it....... there soaked!!!
oiled doorknob
by mystery
(ok, us)
I came home from school to find that my doorknob was covered in oil! I still don`t have it all cleaned up.
bad cookie
by melanie
(winnipeg manitoba)
Me and my cousin made cookies and put really gross ingredients in them like garlic and salt and when my mom tasted it she was gagging really badly.
Toothpaste terror
by Georgia Schampers
(Willow vale , QLD Australia)
I put a big line of toothpaste outside of my brothers bedroom door and told him to come look at the big spider in his room and he stepped right in it but best of all it was two pranks we believed me about the spider
(I made this prank up all by myself and I'm 11
Sex
by Kiara Jones
(Libby Montanna USA)
Tell your Mom you had sex with a 19 year old . & that your 8 weeks pregnant .
Ink got your pen? :p
by maako
(maldives)
You have to plan this REALLY carefully (like when you are going camping or something) coz you might not be able to fool your parents.
You know how pens have a limited supply of ink? So get an empty worthless useless pen and ask your mom to sign a slip from school. She'll think the pen doesn't work and IT WON'T!

wet the bed
When your victims sleeping get cold water and dip their hand in. Then dry the hand and go and hide. It will be so funny when they wake up in a wet bed. You should see their face when they make an excuse like they were having a nightmare. All you would need is a bucket with cold water, a victim and a towel. It also works with warm water.
Oh god
by Xander the freakin awesome prankster
(Raleigh nc)
Put a scary mask in the fridge and when someone opens it they scream
message in a bottle
by allyson carlson
(whitewater )
i took a soda bottle and slightly took a part of the wrapper off. the i made a tiny slit and slipped my sisters' fone inside. the i glued the wrapper back on. when i txt her later she was trying to get her fone from the top! it took her a half an hour to finily cut it out! hahahah still laughing!
Invisible forcefield
Take clear wrap from a drawer inthe kitchen and on the side of a door that doesn't open stretch it across the doorframe at night. When victim wakes up and leaves their room they walk through an invisible forcefield!
Battery REMOVED
by Juliana
(utah)
First you take the bateries out of a tv remote that works, then you wait for someone to use the remote. When they realize that the batteries are gone they will go get some more. While they do that put the batteries back in and the person will be like what!!!
Keep repeating over three times or two times.
coffe weirdo
by lelin spriggs
(clearwater F.L)
i all ways hate eating and drinking my orange juice .. my family makes me drink a hole cup! when my family wasn't looking i poured orange juice in there coffee my family drank it and spit it out !! hehe :D for now on i drink what ever i want ( only in the mornings)
Salty Cuppa
by Paige
(Driffield)
Make someone a cuppa and don't let them see you put loads of salt ..not sugar, SALT in it.

Then when they drink it, they won't want you to make one ever again!!
your not going anywhere
by patricia
get a long white string and tie it on your victim's doorknob then tie the another end of the sring on another door. keep your victim in thier room as long as you canthen cut the string and finally let them go
That's a wrap
by Chase Q.
(US)
Get those sheets of clear plastic wrap and some duct tape and put them across a door frame while someone is away and when they come back they will run into an invisible wall. It helps if there is low lighting.
Buy toilet paper that does not rip
by Danny
(Country )
I put fake poop on the sink and then someone used the bathroom and took so long


Tooth Paste Oreo (:
by Thena Shanelle
(canton, ohio)
Put tooth paste in the middle of an Oreo cookie and watch your friends or family eat it. My friend did this to me at school and i will remember it forever.
Itchy Bed!
by Hermione
(UK)
This is the perfect prank for anyone, but mainly brothers and sisters! Basically, pull back the duvet from your victims bed and sprinkle crumbs from biscuits onto their sheets! Next NEATLY make their bed for them, so it looks like your mum has made it. Your victim tosses and turns in bed at night, getting a rubbish nights sleep!!!
the bed
by bill
(nv)
First, grab a bottle of juice when your mom is asleep and gently pour it on her feet then grab water and make sure it looks like she has wet the bed and she will think she did.
Curry Powder Butter
by Gracarina
(Albury)
Spread some butter onto a savoury biscuit, add some curry powder and put some cheese on top so the victim won't see it, and serve it to them.

Tell them to watch out it might be hot. Ha ha ha
The Dart-Scare
You will need any type on small gun that shoots darts, and of course, a camera filming the whole room.

Say you wanna get revenge on someone for god knows what.

Tell your victim that you wanna show them something, bu tell them to come in two minutes. This gives you enough time to get ready.

Grab your dart gun, crawl under your bed, and have a watch with you so you when how much time you have.

Your victim will come into the room, let them spend 10 seconds to find you. Finally, aim your gun at there leg and FIRE! That will scare the hell out of them!

If you don't have a dart-gun, they sell them at Toys'R'Us and WalMart.
Buggy Breakfast
by SJ
(Marland)
So one time i went to the store and bought some eggs with fake worms i gave it to my mom for breakfeast and she freaked.
Shrimp tails
by anonomous
Take old shrimp tails and put them in a plastic bag for a couple days the use gloves and take the shrimp and put in innoticable places in the house preferably not on the floor.
So, what d'ya think?

Share this page right now!  Go ahead, do it!