Shower Pranks
STEP 1: Put a bucket of water in the fridge. (you'll need it later)
STEP 2: Varnish the soap
STEP 3: Put lollies (candy) or stock cubes in the shower-head.
STEP 4: Replace the shampoo in the bottle with some vegetable oil.
STEP 5: Glue shampoo lids shut so that it needs to be unscrewed to use.
STEP 6: Replace toothpaste in the tube with creamed cheese or mayonnaise. Flavor with wasabi or hot english mustard.
STEP 7: Turn the hot tap off super tight.
STEP 8: Fill the shower cubicle with balloons. Have water in one or two.
STEP 9: Reverse the lock on the door so that it can be locked from OUTSIDE.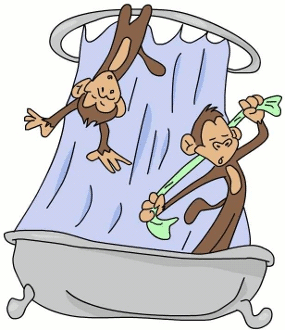 STEP 10: Wait for someone to get in the shower. Steal their clothes, towel and bathmat.
STEP 11: Turn on the HOT water tap in the kitchen to start the cold shower in the bathroom.
STEP 12: Turn off the water at the mains, outside.
STEP 13: Throw the bucket of water from the fridge, over the shower cubicle.
STEP 14: Finish of by throwing some confetti or flour at your cold, wet victim and turn off the lights.
Step 15: Apologize and restore lights and water, cutting only once more.




NEVER turn off the cold tap as a prank. It is extremely dangerous.
If you want to CUT the hot water, then USE the hot water.
So, what d'ya think?

Share this page right now!  Go ahead, do it!