PRANK-MONKEY-JOKES.COM
These are the latest pranks pages that I have built.
As a new page is added to the top of the list, the oldest 'new' page at the bottom, will disappear.
This page will never show more than 15 listings of new pages, so click the orange RSS button if you don't want to miss a thing.
Take a look at these new pages:
Scary Pranks My Website Visitors Sent In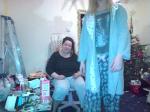 These pranks were sent in by my website visitors that should scare the daylights out of your friends.
So, what d'ya think?

Share this page right now!  Go ahead, do it!