School Pranks For Class Clowns
Shake up fizzy drinks from classmates' lunches. Put a hole in someone's drinking straw or can/bottle so that it trickles down their shirt when they drink it.
Do absolutely nothing but act suspicious like you are planning to play pranks on friends at school.
Write out fake love letters to people who don't like each other and say stuff like, "I want you to be my wife."
Tape down the receiver of the phone in the school reception.Put sticky-tape over the light on a computer mouse.
Put a goldfish in the teacher's glass of water.
Coat the door handles of the office with Vaseline.
Cut a classmate's tie in half.
Kick a roll of toilet paper down the stairs.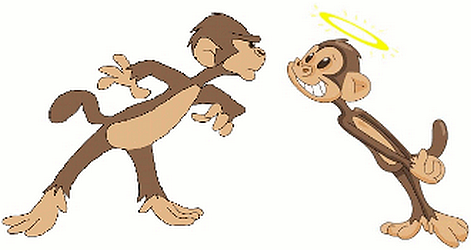 Sprung!
Pour baby oil in a pencil case.
Tie balloons to a couple of doors in the school and people will think that they actually mean something.
Put wet newspaper in a Mars Bar wrapper and give it to someone with no lunch.
Superglue a computer mouse (or all of them) to the desk in the computer room.
Acquire an air horn; libraries, exam classes, toilets, anywhere is a good place to play pranks on people with an air horn.
Tie someone's shoelaces to their desk or chair.
Put soy sauce in someone's drink bottle if they have a cola drink.
High School Pranks
Start a food fight on your way out of the cafeteria.
Throw water balloons from a window or balcony, above.
Write out notes like, "FOR SALE" or "BUY WATSONIA SAUSAGES" and put them on peoples' backs. See how many walking advertisements you can make at school.
Put old sandwiches in a locker. Keep collecting moldy sandwiches in there. Throw in a sardine can if you want to.
Chewing gum on seats is one of the most used school pranks because of how easy and effective it is.
Put up signs saying that everything is out of order. Payphones, drink machines, lockers, people, chalk, etc.
Break someone's chair or bend the legs to make it wobble.
Pour detergent in the hallway or on a ramp.
Glue all of the classroom doors shut when there's nobody in there.
Buy bulk amounts of plastic cutlery and stick in the lawn or gardens at school.
Photocopy money and leave them glued into the bottom of a urinal.
Use a laser pointer to attract attention to things like the teachers butt or just have it go all around the room.
Put sauce in balloons and pop them on people with spiky hair.
Slip a piece of dog poop or melting popsicle in an enemy's pocket.
Write in a book, "Please return for a reward, I NEED this book," and put the phone number of someone you don't like as the contact.
Superglue all of the lockers shut.
High School Senior Pranks
Put dog poop under the doorknobs on classroom doors.
Play football on the oval with a few rolls of toilet paper.
Put fake cockroaches in the cafeteria, between bowls or near cutlery trays. Maybe near the bins.
Put laxatives in the chocolate drink urn.
Turn off the water at the main supply tap to your school.
Pretend that there has been a crime and lay a white sheet over a body on the ground. Put sauce on their head before putting the sheet on them.
Call the school on behalf of a teacher and complain that you haven't been paid all year and what's the deal with that.
More commonly known as a last day of school prank, this prank includes getting three greased-up pigs and paint #1, #3 and #4 on them and let them loose in the school grounds. The staff will go crazy trying to catch #2 that doesn't exist.
So, what d'ya think?

Share this page right now!  Go ahead, do it!